Ed Romero decided to be a singer at the age of ten. He was influenced by the folk music of his native Argentina and the Brazilian pop vocals he heard from Buenos Aires.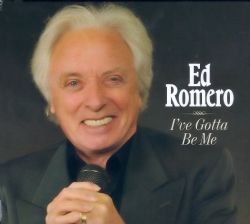 His new CD, I've Gotta Be Me, is a collection of his favorite standards from the Great American Songbook.

It truly is a voice from the heart.


"It was a real pleasure to interview Ed Romero and discuss his latest CD.  He is a very talented singer and deserves to be recognized as such.  I plan to feature Ed on several shows.  You can tell the sincerity in his voice when he sings the songs in his latest CD "I've Gotta Be Me."  He loves these songs and he does an excellent job performing them.  I wish him the best with his latest CD."

Jim Stone, Big Band Swing, LCC Radio

"When Ed Romero was a young man in Argentina, he discovered the Great American Songbook.  And now America is discovering Ed Romero.  His new CD "I've Gotta Be Me" is delightful.  He handles the well-known standards, such as "More," "It Could Happen To You," "Here's That Rainy Day," and more with ease.  His style is straightforward, no gimmicks, just excellent singing and with an outstanding group of musicians. Add this CD to your collection and enjoy Ed Romero.  I did." 

John Bohannan, The Jazz Cafe, WRHU, NY